MaxDataGenius – How to recover lost video files (MP4, MOV, 3GP, M4V, …)
You can use MaxDataGenius in order to recover and repair your lost video files with regard to a number of file systems. See how it works!
Symptom: Your video file (MP4, MOV, 3GP, M4V, …) is no longer visible on your media.
Solution: Recover your video file using MaxDataGenius.
Step 1: Make sure your PC/Mac can access your media. For SD cards (or micro SD cards) you may need to attach an external SD card reader as shown below.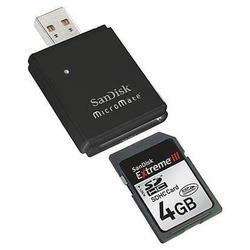 Step 2: After downloading and installing MaxDataGenius, start it.
Step 3: For the disk to be scanned choose your SD card reader:


Step 4: As recover scenario, choose 'Find deleted files' and make sure you have checked these file systems: FAT, exFAT, RAW.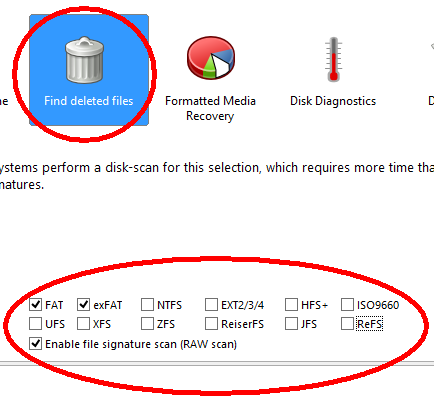 Step 5: After the scan has completed, choose folder Videos->quicktime on the left, select your deleted video file and click on 'Save' to recover your deleted video file to another disk.

  Warning: do NOT save to the SD card, save to another disk (for example to your system drive)!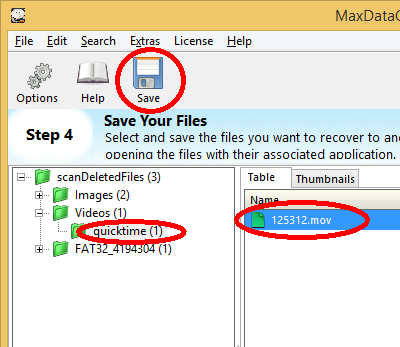 Step 6: Try to play the recovered video by double-clicking it in Windows Explorer.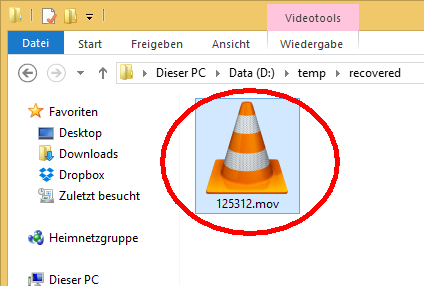 Step 7: If it does not play or if get an error message ('movie cannot be played'), you may have to run our Video Repair software on your file.
Do you have further questions? Do not hesitate to contact us.
---
For your reference, we have successfully tested MaxDataGenius  in combination with Video Repair Tool to recover video files of the following cameras:
4k Action Cam
Aiptek Pen Cam
AJA Ki Pro
Apeman A70
ARRI AMIRA
Asus Zenfone Max
Atomos Ninja2
Atomos Ninja Blade
Blackmagic Cinema Camera
Blackmagic URSA Mini
BlackVue DR550GW-2CH
Canon 1DX Mark II
Canon 574HD
Canon 600D
Canon EOS 550D
Canon EOS 1D
Canon EOS 6D
Canon EOS 5D Mark II
Canon EOS 5D Mark III
Canon EOS 5D Mark IV
Canon EOS 7D
Canon EOS 1200D
Canon 70D
Canon EOS REBEL T1i
Canon EOS REBEL T2i
Canon EOS REBEL T4i
Canon EOS REBEL XTI
Canon PowerShot G11
Canon PowerShot G12
Canon PowerShot S95
Canon PowerShot SX20
Canon PowerShot SX30 IS
Canon PowerShot SX610 HS
Canon VIXIA HFR400
Canon XH A1
Contour +2
Contour HD Helmet
Cyberlink YouCam
Datavideo DN-70
DJI Drohne Vision Plus 2
DJI Mavic Pro
DJI Phantom 3 Professional
DJI Phantom 4
DJI Zenmuse X5
Drift HD720
Flip Ultra HD
FLIR ONE
HTC EVO 4G
Huawei H30-U10
Huawei P10
iON Air Pro 2
iPhone 5
iPhone 6
iPhone 7
JVC HM100
Fujifilm FinePix HS50EXR
Galaxy Note 4
Genius DVR-FHD570
GoPro Hero3
GoPro Hero4
GoPro Hero5
Kodak EASYSHARE Z1012 IS
Kodak ZX1
Kodak ZX3
Kodak ZI8
Kodak Z7590
LG Q10
Liquid Image HD320
Lumia 730
Lumia 930
Matrox MX02
Microsoft Lumia 950
MiVue C330
Moto G5 Plus
Motorola XT1543
Nexus One
Nikon D3S
Nikon D800
Nikon D810
Nikon D3100
Nikon D3200
Nikon D3300
Nikon D5200
Nikon D5300
Nikon D7000
Nikon D7100
Nikon Coolpix P300
Nikon Coolpix P530
Nikon Coolpix 2800
Nikon Coolpix 8200
Nikon Coolpix 7600
Nikon Coolpix S9500
Nokia Lumia 630
Nokia N82
OnePlus One
Olympus SP-810UZ
Olympus TG-860
Olympus Tough TG-810
Oregon ATC9K
Panasonic DMC-FX100
Panasonic DMC-FZ1000
Panasonic DMC-G7
Panasonic DMC-GH2
Panasonic DMC-GH3
Panasonic DMC-GH4
Panasonic DMC-GH5
Panasonic DMC-GX80
Panasonic DMC-SZ10
Panasonic AG-HVX200
Panasonic HC-MDH2 HD
Panasonic HC-VXF999
Panasonic HC-X1000
Panasonic HX-DC1
Panasonic HX-X1000
Panasonic Lumix G80
Panasonic Lumix FZ2000
Panasonic Lumix TZ101
Parrot Bebop 2
Parrot AR Drone Quadcopter
Polaroid PD-G55H
POV HD
Rollei AC230
Samsung Galaxy Note Edge
Samsung Galaxy Note N9005
Samsung Galaxy SIII LTE
Samsung Galaxy J7
Samsung Galaxy S7
Samsung Galaxy XCover III
Samsung HMX-200
Samsung HMX-S10
Samsung HMX-Q10BP
Samsung J110M
Samsung VP-MX20
Samsung SMX-F400BP
Samsung ST64
SIV-M7
SJCAM SJ5000X
SOOCOO C30
Sony A7II
Sony A7S1
Sony A7S2
Sony A7SII
Sony A5000
Sony A6000
Sony Cyber Shot 14.1
Sony DCR-SR45
Sony DSC-HX1
Sony DSC-W55
Sony DSC-RX100
Sony FDR-3000
Sony FDR-AX40
Sony FDR-AX100
Sony FDR-X1000V
Sony FS5
Sony HDR-AS15
Sony HDR-AS50
Sony HDR-AS200V
Sony HDR-CX190
Sony HDR-CX200
Sony HDR-CX240
Sony HDR-CX900
Sony HDW-F900
Sony HXR-MC1500P
Sony ILCE-7S
Sony ILCE-7RM2
Sony ILCE-7SM2
Sony NX3
Sony PMW-EX1
Sony PXW-FS5
Sony PXW-FS7
Sony RX 10 II
Sony XDCAM
Sony Xperia M
Supremo 4k
Olympus Pen EL8
Olympus SZ-31MR
ThiEYE V5
Toshiba Camileo S30
Toshiba Camileo B10
Toshiba Camileo P100
Walkera iLook
Wiko Highway
Xiaomi YI
Xiaomi YI 2K
Xiaomi YI 4K
Xiaoyi
XSplit Broadcaster
Yuneec Typhoon CG03
Zoom Q2HD
Zoom Q3HD