Battery diagnostic for your electric car
Using your Android or iPhone smartphone and our new battery diagnostic product ('CAN Logger') you can diagnose the battery cells of  your electric car.

NEW: Now also as smartphone version available! For Tazzari electric cars and other electric cars available (on request).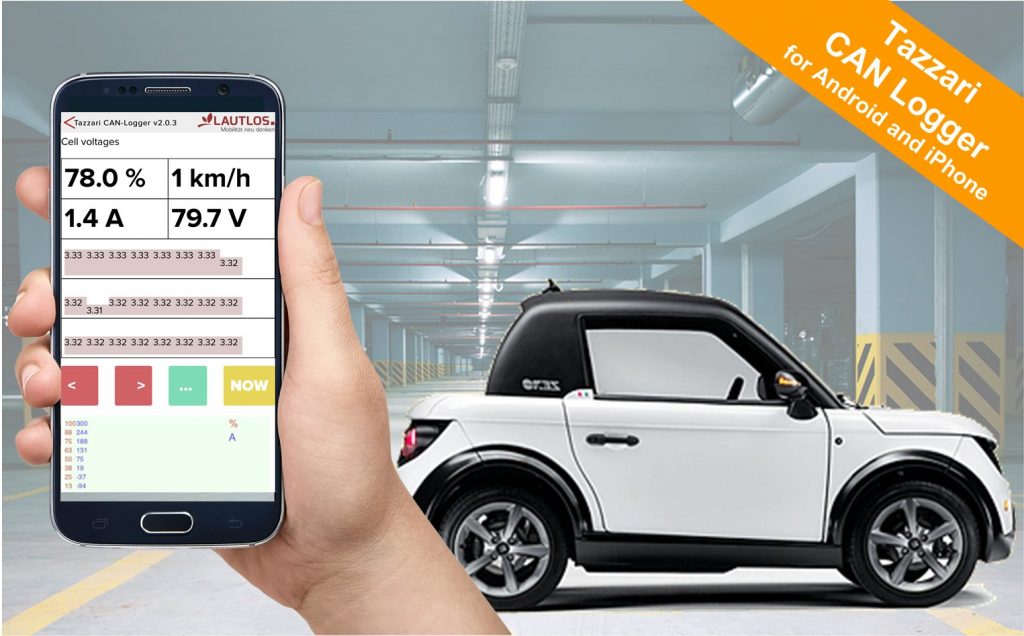 Features:
battery percentage, total voltage, cell voltages, current consumption
battery cell diagnostic: find out the 'weak' battery cells to replace (based on detecting battery cell voltages during driving)
car speed, trip counter (based on GPS)
battery data logging
App for Android and iPhone (Bluetooth)
for Tazzari electric car and other electric vehicles (on request)
---
Our older CAN Logger products:
A standalone CAN bus logger, GPS tracker and GSM remote control – all in one device!

Monitor & log CAN bus data and GPS data

For all vehicles and devices with a CAN bus (up to 1 MBit): Tesla, Toyota, Volkswagen Group, General Motors, Hyundai, Kia, Ford, Nissan, Honda, Fiat Chrysler, Renault, Group PSA, Suzuki, Daimler, BMW, Mazda, BAIC BJEV, Dongfeng Motor, Geely, Great Wall, Zhidou, BYD, Zotye, BAIC,  Tazzari, FINE Mobile, SUNRA   etc.

Integrated LCD with backlight, perfectly readable in both direct sun-light and in darkness
Integrated 6 push buttons for menu navigation (SELECT, LEFT, RIGHT, UP, DOWN, RESET)
micro SD card support
integrated GPS receiver
integrated GSM module – send SMS on custom events (e.g. battery full/low etc.)
USB socket for updating firmware
EEPROM for permanently storing small amount of data (SD card for storing larger data amount)
Software and menu structure fully customizable, even to 'exotic' vehicles and devices with CAN bus – adjustable to your own monitor & logging solution (GPS tracking, vehicle log, battery logger, trip counter etc.)
Adjustable power and CAN connector (power & CAN data via OBD socket or something else)
Low power consumption (100 mA @ 12V)
Web interface for viewing and analyzing SD card logging data
Ready-assembled in a black case
Also, this is the right device for diagnostics, product analysis, test purposes and development.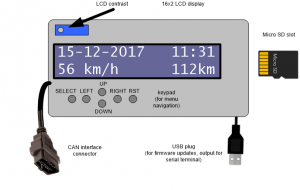 Example case: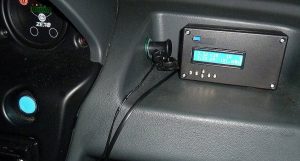 Example menu structure: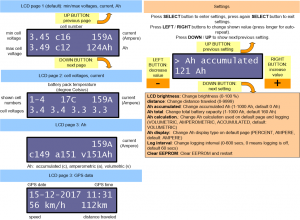 Example logging data (CSV file):
GPS date & time
GPS vehicle position (longitude, latitute)
GPS vehicle speed (km/h)
GPS distance traveled (km)
CAN battery voltage (Volt)
CAN engine speed (RPM)
CAN engine load (%)
CAN engine torque (Nm)
CAN engine coolant temperature (degree Celsius)
CAN intake air temperature (degree Celsius)
CAN vehicle fuel level (%)
CAN error codes
…and more
Web-based CAN log viewer (CSV file viewer):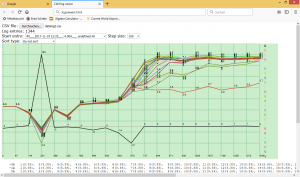 Are you interested in customization of our ready CAN/GPS monitor, analysis, diagnostics, logging, HMI solution? We can customize this device to your requirements even for small quantities – Please ask us for a quote (German or English).
Please let us know:
your required vehicle type or the specific device
required quantities
---
Available customized versions of our CAN Logger: