MaxDataGenius – High-quality Data Recovery Software

MaxDataGenius starts where competitors give up (and this is no advertising promise!):
15 years of product development have created a high quality software with superior recovery results.
An expert product- especially for Technicians, Administrators and Forensic Investigators due to the integrated logging facility with different log levels and automatically created scan result report. Every action and detected structure/file can be retraced and evaluated via the log file. Manually adding results to the scan report is also possible.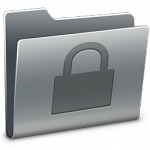 Your data comes first: Our software conforms to the German federal data protection act – this ensures that our software does not send any confidential information from your hard disk outside your machine either in plaintext or encrypted (like other free product competitors may do, especially those without a federal data protection act in their country).
Please form your own view and compare it with competitors.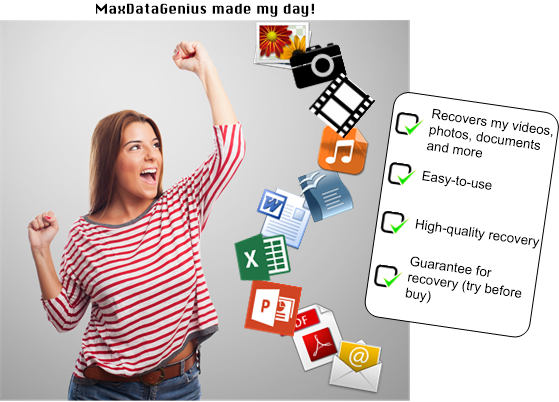 MaxDataGenius offers all kind of data recovery scenarios, disk imaging tools, RAID reconstruction, wipe, foreign file system browsing and much more.
MaxDataGenius comes in two versions – MaxDataGenius Basic and MaxDataGenius Pro. We want to give you the chance to choose the correct version for your data recovery case.
Are you curious in which situations MaxData Genius Basic can help you? Here you find some typical scenarios! You can also use the Basic version for your business data recovery – check the user scenarios to get to know more.
Do you want to know when to use MaxDataGenius Pro instead? Just click here and see!
Features
MaxDataGenius saves your data from different data loss crisis


Accidential deletion, virus attack, device failure – can recover lost or deleted files, even if deleted from recycle bin, and can use a so called 'RAW' file system feature to detect files by 'footprints'
Formatted, system crash, hard drive failure, device failure – can unformat a partition or disk with heavy logical damages, or if formatted with different file systems – can recover from corrupt boot sectors, corrupt file system structures etc.
Partition loss – can recover from lost boot sectors, corrupt partition tables, corrupt logical disk manager etc.
MaxDataGenius supports all kind of media

flash media like USB thumb disks, SD cards etc.
digital cameras, media players, phones etc. (must be appear as a volume or disk on your computer to work)
optical media like CD, DVD etc.
hard drives (including SSD)

RAID drives: RAID0, RAID5 and combinations (e.g. RAID50 etc.), JBOD – must appear as physical or logical disks on your computer to work) – software includes RAID reconstruction for broken RAID disks
MaxDataGenius supports all kind of file systems

FAT12/16/32 (mainly used on flash cards, hard disks etc.)
exFAT (mainly used on flash cards)
NTFS (used on PC hard drives)
CDFS/ISO9660 (used on optical media)
HFS+ (used on Mac hard drives)
ext2/3/4, ReiserFS, JFS (mainly used on Linux systems)
RAW (means it recovers without any file system by scanning for 'foot prints' of your lost files)
LDM (can recover from damaged Windows logical disk manager)
VMDK (VMWare flat or sparse virtual disk image files, incl. snapshots and extents)
ReFS (used on Win2012 server and Win8)
UFS/XFS/ZFS (mainly used on Unix and Linux systems)
MaxDataGenius has unique additional features


RAID reconstruction: select individual disks of a broken RAID system (JBOD, RAID0, RAID5 and combinations like RAID50 etc.) and reconstruct the RAID system for data recovery with a mouse-click
Browse native and foreign file systems: browse file systems not available on your computer! (for example browse HFS+ or Linux volumes on your PC)
Wipe data: securely wipe individual files
Disk diagnostics: analyze media to detect bad blocks, show disk usage etc.
Disk tools: create/restore disk image files, direct disk-to-disk copy, securely wipe unused space, wipe entire disks, hex view etc.
Refresh disk: Safely verify and rewrite all media blocks to increase data endurance
Download MaxDataGenius
System requirements:
PC: Windows Vista / 7 / 8 / 10 or higher
DEMO version restriction: You can save up to 3 files in DEMO mode

WARNING: Do NOT download or run this on the same disk you are going to recover! If you want to recover files your system drive (C:), detach the drive and use another computer for recovery of your system drive.
MaxDataGenius Basic (Windows) - By clicking this download link, you are accepting the license below! (33015 downloads)
MaxDataGenius Professional (Windows) - By clicking this download link, you are accepting the license below! (10820633 downloads)
MaxDataGenius User Manual (English) (3201 downloads)
MaxDataGenius Benutzerhandbuch (Deutsch) (1157 downloads)
License
This is trialware. Software is licensed, not sold or owned. The author grants you a non-exclusive, non-transferable license to use this software. You may not redistribute the software. You may not use this software to establish an online service with it. You may use Single-user licenses only for a single user. You accept the license by downloading this software. EXCEPT AS EXPRESSLY SET FORTH IN THIS AGREEMENT, THE PROGRAM IS PROVIDED ON AN "AS IS" BASIS, WITHOUT WARRANTIES OR CONDITIONS OF ANY KIND, EITHER EXPRESS OR IMPLIED INCLUDING, WITHOUT LIMITATION, ANY WARRANTIES OR CONDITIONS OF TITLE, NON-INFRINGEMENT, MERCHANTABILITY OR FITNESS FOR A PARTICULAR PURPOSE.

MaxDataGenius: Quick start manual

This data recovery software is easy-to-use: recover your files by a few mouse clicks!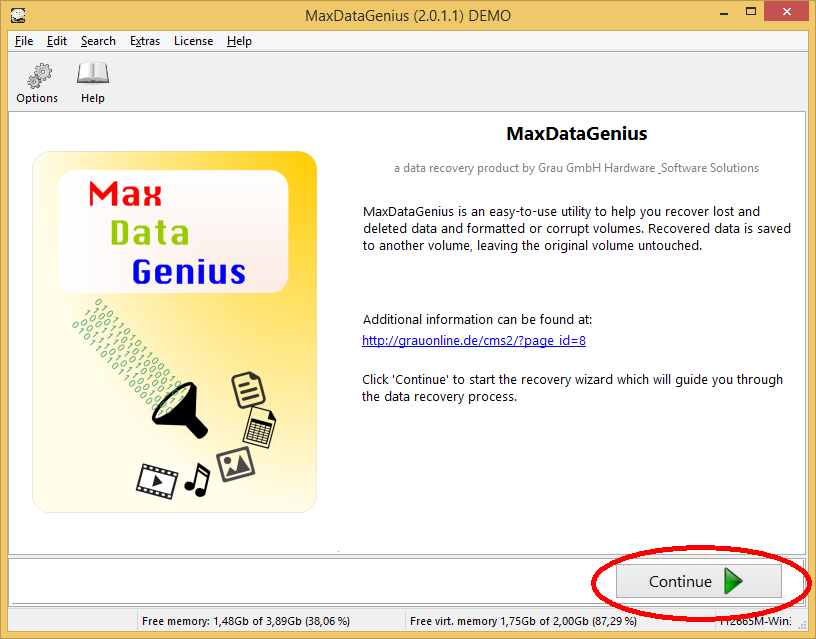 1. Start MaxDataGenius and click on 'Continue'.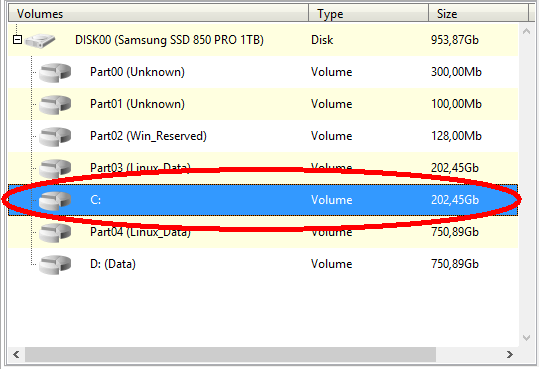 2. Choose your volume/drive/disk for recovery.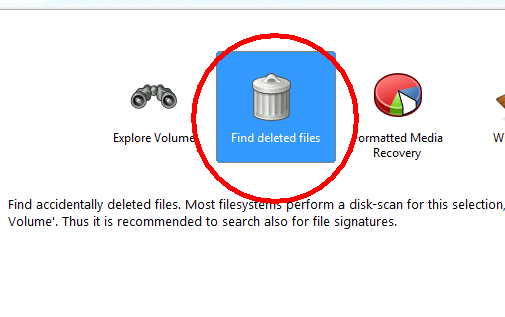 3. Choose a recovery scenario and wait until the scan has completed.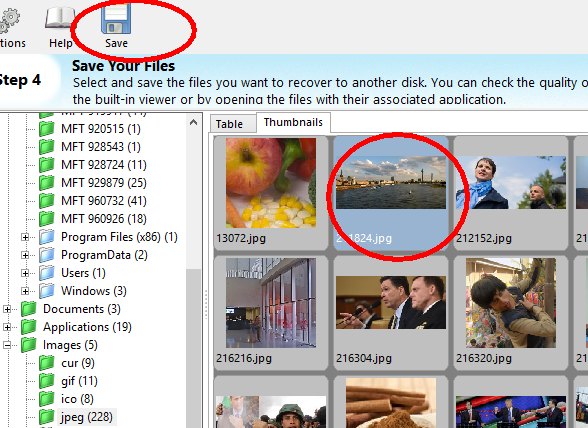 4. Choose deleted files and click on 'Save'.
Click here for the quick start manual…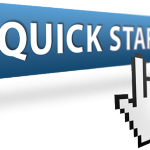 Click here for tutorial: How to recover lost video files (MP4, MOV, 3GP, M4V, …)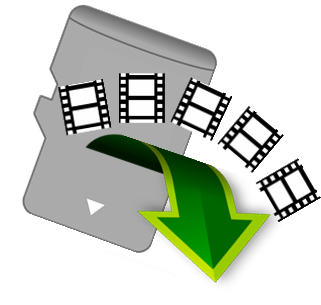 Help
Not satisfied with the recovery result? Or do you need help/assistance with your video/audio/photo/document recovery? Then please contact us – our technical support (English/German) is for free. NOTE: you will get direct support by our high-qualified developer team.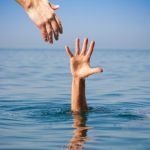 Purchase
Always try before you buy! Please download and try the repair to make sure that the software meets your needs before buying a license.
Please also read the FAQ *before* purchasing! It contains useful information why in some cases, the full version may *not* recover your data.
As with all online software sales, there are NO REFUNDS!
For non-EURO: The price is converted into your currency at the current rate during the purchase process.
You'll get an invoice (.PDF file with VAT/MwSt details) directly after purchasing.
I have read all above, and by clicking this button below I accept that I cannot get money back for any reason.
Basic version
Single-user license
all features above,

but

without

:

Disk tools: disk backup/restore/copy/wipe/refresh/cleanup
Linux file system recovery (ext2/3/4, ReiserFS, UFS, JFS, ZFS, XFS)
Wipe Files
RAID disk recovery
VMDK VMWare images support

29 EUR (+VAT/MwSt for Germany and EU contries)

Professional
version
Single-user license
all features above,

including

:

Disk tools: disk backup/restore/copy/wipe/refresh/cleanup
Linux file system recovery (ext2/3/4, ReiserFS, UFS, JFS, ZFS, XFS)
Wipe Files
RAID disk recovery
VMDK VMWare images support

99 EUR (+VAT/MwSt for Germany and EU contries)
Frequently Asked Questions (FAQ)