Ardumower Sunray App – The companion for your Ardumower RTK robot mower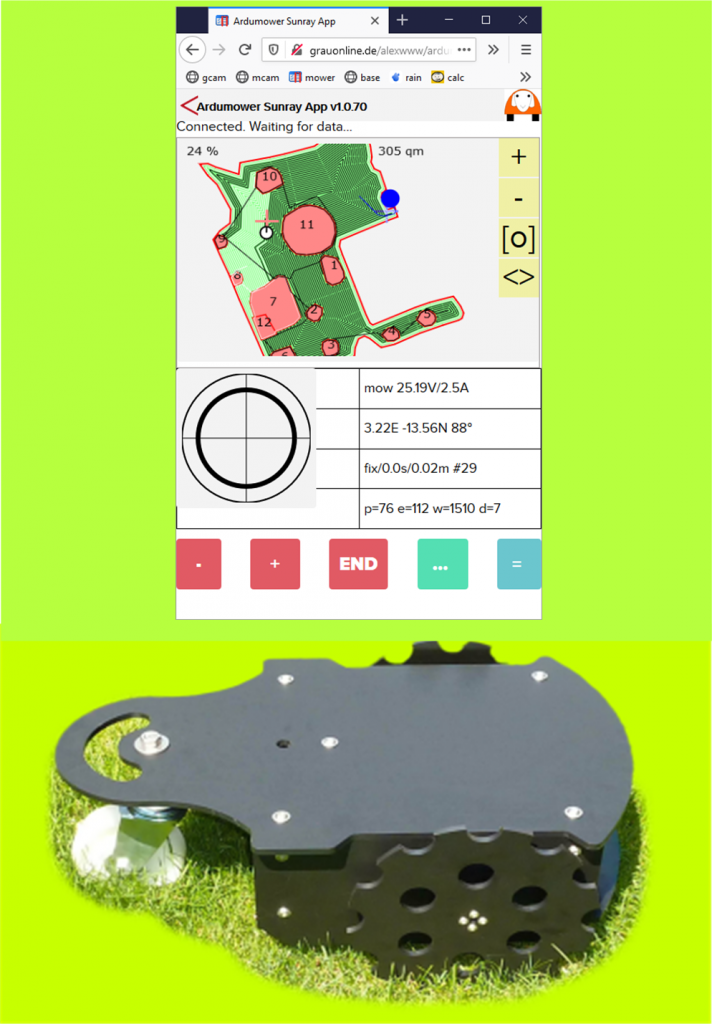 Ardumower Sunray App is the companion for your Ardumower RTK DIY (Do-It-Yourself) robotic mower system. It allows you to manually steer your Ardumower, to setup your virtual perimeter (working boundary) and exclusion areas, to calculate the mowing pathes with many options and to monitor your mower during the mowing process. New to Ardumower RTK? Click here to find out more about Ardumower Sunray…
All Sunray App licenses include
Runs in web browser, support for web browser based devices (PC, Mac, Android, iPhone, etc.)
Support for Bluetooth BLE/4.0 and Intranet (IP protocol)
Manually steer your mower
Perimeter and exclusions recording
Mowing path planner (with custom mowing width)
Transfer waypoints job to your mower (via Bluetooth BLE or Intranet/WiFi module)
Monitor your mower on a map
Store up to 10 maps
Share maps: transfer maps from one device to another
Why purchase
With purchasing a license you do not only pay for past software development but also support future development. Everybody wants bug-fixed software, more sophisticated features and that will be possible with your financial support.
Choose your Ardumower Sunray App license
There are two App versions, one ('free') with limited features and one paid ('basic' or 'pro') with full features. Use the 'pro'-version, if you think you will need support. Alternatively, you can purchase a support package separately later. All licenses are 'Single-user' licenses suitable for one active user. If you need to access multiple robots at the same (multiple active users) you need to purchase a license for each active user.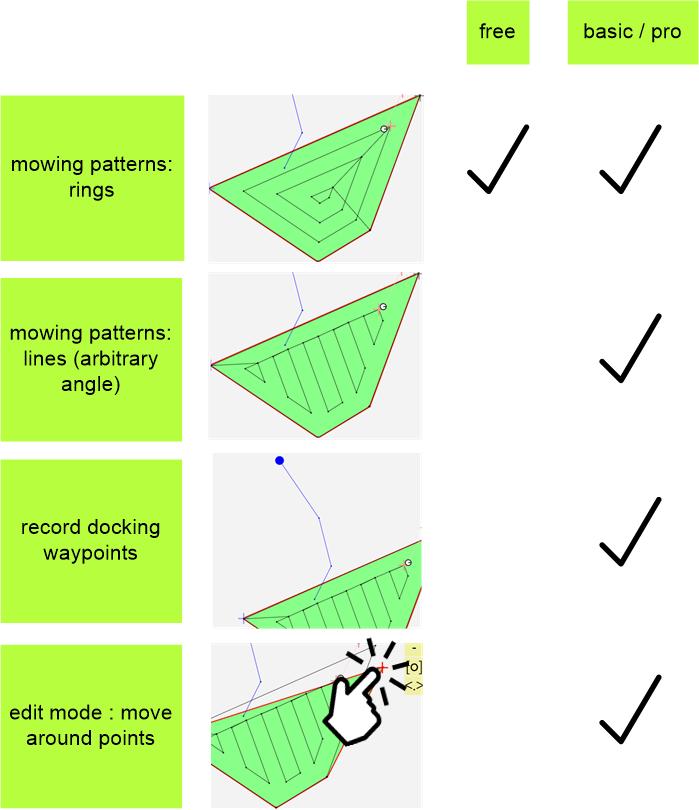 NOTE: After purchasing, it can take up to 24 hours until we have checked your payment and activated your Sunray App license email connected to your PayPal account. We will try to send you the Sunray App license password and invoice (PDF) to the email address connected to your PayPal account as fast as possible (within 24 hours).
(AMSF) Free version: Try out Sunray App  0,- EUR
Mowing pattern: rings
No docking feature
No editor to move around recorded perimeter and exclusion points
---
---
---
---