Impressum und rechtliche Informationen
Grau GmbH is a German start-up company founded in 2013 (before, in 2006, we founded Grau GbR). The company has been developing unique hardware and software products for many years.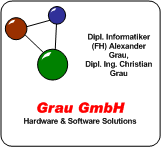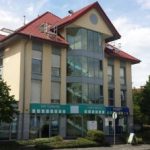 Grau GmbH
Hardware & Software Solutions
© 2013-2017 Grau GmbH
Impressum / Address:
Grau GmbH
Hardware & Software Solutions
Gottfried-Büren-Weg 25
33014 Bad Driburg
Deutschland
Founders and associates: Alexander Grau, Christian Grau
CEO: Alexander Grau
Legal form: limited company
Registration court: district court of Paderborn
Registration number: HRB 11012
German tax number: 339/5818/1591
VAT no.: DE815429076
EORI no.: DE784323642416526
Telefon:+49 (0) 5253 4030928
FAX: +49 (0) 5741 235530
Responsible for content according to German RstV law:
Copyright
All contents and works provided on this website comply with all legal requirements of German copyright. Duplicating, editing, spreading or reusing the contents of this website beyond copyright limits require that the author and creator of content agrees to these purposes in a written form. In case of content which the website operators have not created themselves, the operators respect third party copyrights. Consequently, especially third party content will be indicated as such. However, if you still find any contents violating copyrights on this website, please inform the website operators. After the detection of any copyright violation, the operator will immediately remove the contents in question.
Online settlement of disputes (online settlement platform)
The European Commission has created a web platform where everyone can settle any dispute online concerning all web-based contracts. Customers can access the online settlement platform via the following link: http://ec.europa.eu/consumers/odr/
Grau GmbH is not willing or obliged to take part in any settlement process initiated by a consumer mediation body.